Historic Jonestown is a neighborhood of Baltimore that lies adjacent Historic symbols like Little Italy, Johns Hopkins Hospital, the Baltimore Inner Harbor and Fells Point.
---
Challenges:
Total Population:

​As a whole, one of Baltimore's challenges is the declining population, this decline takes with it tax revenue and helps lead to sparsely populated and vacant areas. One of the issues that we will look at is the absence of land ownership by the current inhabitants and the factors that create a barrier.
---
Racial segregation:

If we look back on the history of housing policies in the last century, one of the most difficult things to come to grips with is a term called Redlining.

"At the federal level, lawmakers developed a system of "Redlining" to prevent Black families from financing home purchases. By outlining Black neighborhoods in red on government maps, entire neighborhoods were considered poor credit risks and thus were not eligible for federally-insured mortgages. Black families turned to contract sales and other high-cost, risky financing sources; a single missed payment could mean losing a home."

In this map, we see the white population notated by the yellow dots and the black populations highlighted by the red dots. While there is some overlap in some parts of the city, there are clearly parts of the city that are segregated. one of the hopes is to make diverse and inclusive communities of all types.

Source:

prosperitynow.org/files/resources/Racial_Wealth_Divide_in_Baltimore_RWDI.pdf
---
Powered by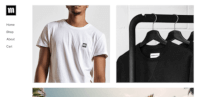 Create your own unique website with customizable templates.